Whether for product designers, engineers and other professionals, or for students and educators, the MDX-540 combines advanced capabilities with ease-of-use for the precision milling of a wide variety of plastics, woods, metals and more. Although the MDX-540 is a highly advanced 4-axis desktop CNC device, it offers a simplified operating system plus included SRP Player CAM software to make prototype production an easy and stress-free experience. The rotary axis (optional), automatic tool changer (optional), and milling speeds can all be controlled via a simple Virtual Control Panel or the user-friendly software.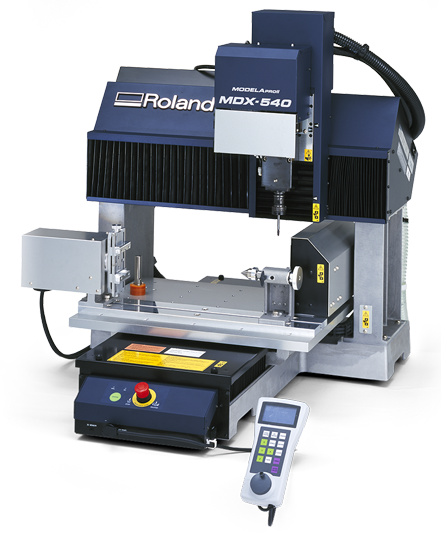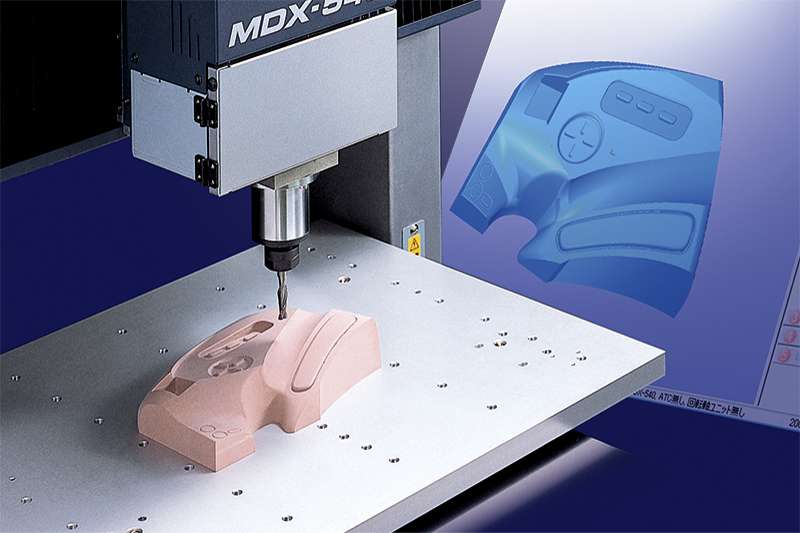 MDX-540 3D milling machines are some of the fastest, most accurate and accessible devices on the market, ideal for producing everything from functional and snap-fit parts and prototypes to light metal molds and custom jewelry. Available in standard and enhanced models, MDX-540 benchtop milling machines offer advanced CNC milling at an affordable price.
MODEL
MDX-540
MDX-540S
Usable Materials
Plastic, resin, wood and non-ferrous metals
XYZ-Axis Travel
19.6(X) x 15.7(Y) x 6.1″(Z)[500 (X) x 400 (Y) x 155 mm (Z)]
Loadable workpiece size with optional rotary axis (ZCL-540) *
7.0" Diameter x 14.6" Length [177.8mm Diameter x 370.8mm Length]
Actual milling area is smaller
Distance From Spindle Nose to Table
Maximum 10″ (254mm)
Table Size
21.7(W) x 16.5″(D) [550(W) x 420mm (D)]
Loadable workpiece weight
At acceleration of 0.2G: maximum 26lb (12kg), 0.1G: 44lb (20kg), 0.05G: 44lb (20kg)
XYZ-axis drive system
AC servo motor, 60W
AC servo motor, 80W
Operating speed
Maximum 295ipm (7.5m/min)
Acceleration
0.2G, 0.1G, 0.05G
Software resolution
RML-1 mode: 0.0004″(0.01mm ), NC-code mode: 0.00004″ (0.001mm)
Mechanical resolution
0.00004" (0.001mm)
Positioning accuracy
+/-0.004″/12″(+/-0.1mm/300mm), under no-load conditions
Repeat accuracy
+/-0.0019″(+/-0.05mm), under no-load conditions
+/-0.0008″(+/-0.02mm), under no-load conditions
Origin reproducibility (when the power is switched on/off)
+/-0.0019″ (+/-0.05mm)
+/-0.0008″ (+/-0.02m)
Spindle motor
DC brushless motor, maximum 400W
Spindle speed
400 to 12,000 rpm; 400 to 3,000 rpm for positioning and centering
Tool chuck
Collet method, maximum tool diameter: 0.4″ (10mm)
Control command sets
RML-1 and NC codes
Interface
USB (compliant with Universal Serial Bus Specification Revision 1.1)
Power supply
Voltage and frequency: AC 100 to 120 V/220 to 240 V +/-10%, 50/60 Hz
Required power capacity: 7A (100 to 120V)/4A (220 to 240V)
Power consumption
Approx. 700W
Acoustic noise level
During operation (no cutting): 65dB (A) or less, during standby: 40dB (A) or less (according to ISO 7779)
Dimensions
Width x depth x height: 29.3 x 37.6 x 33.8Z" (745 x 955 x 858mm)
Width x depth x height: 30.1 x 37.6 x 33.8Z" (765 x 955 x 858mm)
Weight
225lb (102kg)
Operating temperature
41 to 104F (5 to 40C)
Operating humidity
35 to 80% (no condensation)
Included items
Handy panel, power cord, tool sensor, sensor cable, nut, nut wrench, wrench, hexagonal wrenches, Roland Software CD-ROM, SRP Player CD-ROM, User's Manual, Roland Software Guide, SRP Player Installation and Setup Guide, and NC Code Reference Manual
This machine requires a staff member to operate.